The first art auction will be held in partnership with Tsiskvili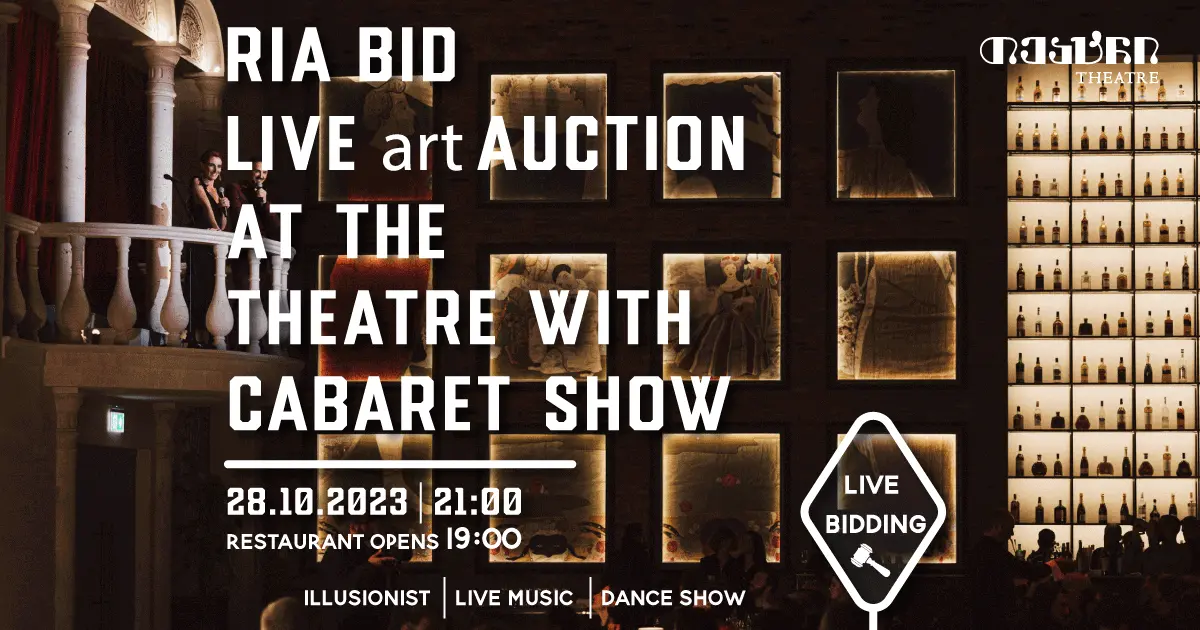 In an extraordinary collaboration that bridges the worlds of art and entertainment, Tsiskvili Group's "Theatre" and Ria Keburia Art Space are all set to redefine the traditional art auction with an innovative and immersive live auction experience.
Mark your calendars for October 28, as this groundbreaking event unfolds in the multifaceted "Theatre" space. It offers the public a unique opportunity to acquire exquisite artworks by a selection of contemporary artists who have made a significant impact on the art scene. The impressive roster of artists for this event includes the likes of Tato Akhalkatsishvili, Maka Batiashvili, Tutu Kiladze, Sofo Mamaladze, Tengiz Sepiashvili (Sepo), Mako Lomadze, Gela Mikava, Luka Jikia, Natalia Lashkhi, and SALOMEYA BAUER.
However, this event isn't just about the auction; it's a complete experience. Guests at "Theatre" can look forward to a captivating show program that promises to be as diverse as it is spectacular. As an added bonus, a specially curated menu awaits, designed by the brand's chef to perfectly complement the cabaret-style atmosphere.
The evening promises to be a celebration of dance, with performances that will transport you to the world of musicals. Get ready to be enthralled by dance numbers such as "The Day Has Come" and "The Artist" from the musical 'Nine,' and the passionate "Tango" from 'Moulin Rouge.' In addition, the evening will showcase a rich tapestry of dance styles from France, Spain, and India. Hosting this unforgettable evening will be Elene Kalandadze and Nika Lomidze.
The Ria Keburia Foundation, established in 2018, is on a mission to promote Georgian art and artists, and to ensure that their works reach a global audience. Among its various initiatives, the foundation has played a pivotal role in the creation of an online auction called Ria Bid, bringing together twenty of Georgia's most talented and promising artists, with a focus on the promotion and sale of Georgian art.
The uniqueness of this event lies in the fact that the online auction will transition to a physical space. This exciting transformation will take place at the "Theatre" of Tsiskvili Group. Here, guests will have the opportunity to acquire their desired artworks on the spot, creating a dynamic and immersive experience. As Ria Keburia, the founder of Ria Bid, explains, "It is important to note that this time, the online auction will be moved to a public space, specifically to the 'Theatre' of Tsiskvili, where guests will have the opportunity to purchase the artworks they desire on the spot."
Auction culture, which is widely popular in international art circles, is fast gaining momentum in Georgia. Art enthusiasts gather at auctions to stay updated with the latest developments in the art world. Tsiskvili's "Theatre" is leading the way in bringing this cultural trend to Georgia by hosting the works of contemporary artists. This marks a significant and exciting shift in the local art scene, as auction culture becomes an integral part of the Georgian art experience.
To provide more insight into this exciting venture, Mariam Sagliani, the project manager, shared, "As you may know, auction culture is quite popular abroad, and similar events are often organized where modern art enthusiasts gather to stay updated with the latest developments. This trend is now gaining momentum in Georgia. We are delighted that Tsiskvili's 'Theatre' is the first in this endeavor and that we will host the works of contemporary artists in our space. I would also like to highlight that the 'Theatre' consistently exhibits and sells artwork at every show. A pop-up exhibition is featured on the walls, allowing our guests to make purchases on the spot."
The "Theatre" of Tsiskvili Group consistently strives to provide a dynamic and ever-evolving experience for its guests. Each event is carefully crafted to deliver a sense of celebration, and this upcoming art auction is no exception. With each passing week, you can look forward to fresh and intriguing themes, ensuring that every visit to "Theatre" feels like a grand celebration.
Prepare to embark on a one-of-a-kind journey as "Theatre" invites you to an art auction that promises to redefine the way you experience and acquire contemporary masterpieces. It's a night of art, culture, and creativity that you won't want to miss, complete with a delectable dinner and an unforgettable show.

On December 31st, New Year[a]s Eve, indulge in the most dazzling, pompous, and spectacular New Year[a]s show, "Broadway Night", at the "Theatre"