Teatri.ge - buy tickets for the Tsiskvili theater without commission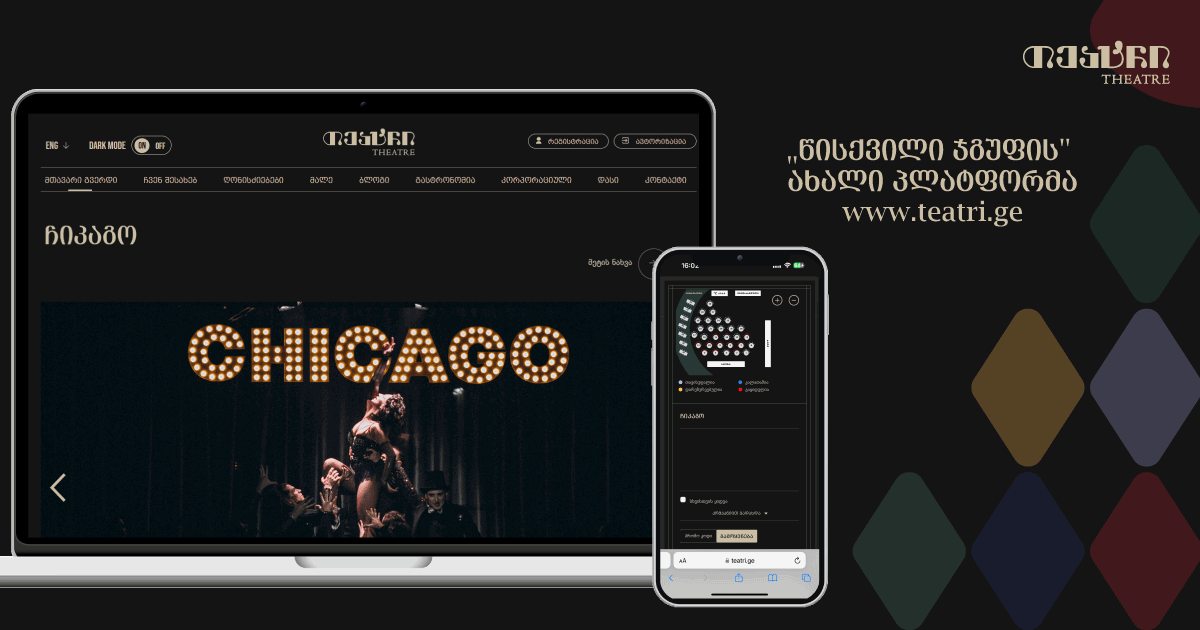 Tsiskvili Group has launched the e-commerce platform for one of its successful projects, the "theatre". This platform allows customers to purchase tickets for attending shows, reserve tables, view the event calendar, and explore corporate offers and news.
"The final and distinctive addition to Tsiskvili Group is its renowned "Theatre", which has gained widespread recognition for producing numerous exclusive and exceptional productions throughout the year. Georgian audiences now have the opportunity to experience the same musicals currently staged on Broadway, right here in Tbilisi at the Tsiskvili's Theatre."
"Naturally, we have an ambitious goal to stay at the forefront of technological innovations. This is why we have chosen to establish a dedicated platform for the "Theatre" - "Teatri.ge", which consolidates all the information related to our venue. What's equally important is that tickets can be acquired through the website without any additional commission. The platform has also garnered significant interest from tourists, as our theatre has quickly become one of the must-visit attractions in Tbilisi," stated Anano Tavkhelidze, Head of Marketing at Tsiskvili Group.
On Teatri.ge, you can also explore blogs where you can access interesting information about the "Theatre" and stay informed about the latest developments related to the venue.
"The blogs featured on the platform are regularly updated and provide original content specifically created for Teatri.ge. They cover topics such as our Theatre's activities, the people behind the productions, the purpose of our work, and more. The website is bilingual, offering the blog content in both Georgian and English. This type of content serves as a primary driver for attracting traffic to our website, particularly in terms of SEO, as it aligns with both Google's preferences and user preferences," stated Mariam Sagliani, the project manager at Teatri.ge."
A special graphic has also been developed for Teatri.ge, enhancing the user experience in understanding the venue layout and facilitating the selection of preferred tables. In addition to a comprehensive event calendar, the website also provides event-specific menus that can be selected during the ticket purchasing process.
For those interested in hosting private events at the "Theatre", there is a dedicated section called 'Corporate' where detailed information about service terms, menu options, technical specifications, and hall equipment can be found.
"We have ensured that the technical infrastructure of Teatri.ge complies with modern international standards to ensure the platform's functionality and safety for users. The site design follows a 'Mobile First' approach, ensuring seamless adaptability to screens of various sizes and resolutions, making it user-friendly on mobile devices as well.
Another important consideration was designing the platform's user interface to align with the preferences of our target audience. Guided by our concept, we opted for a simple and minimalist design approach. This spacious interface not only conveys an elegant appearance but also enhances ease of navigation and platform usability," noted Giorgi Gelashvili, the project manager of Teatri.ge."

On December 31st, New Year[a]s Eve, indulge in the most dazzling, pompous, and spectacular New Year[a]s show, "Broadway Night", at the "Theatre"